It's that time of year again!  Where did summer go?!  No more vacay — it's time to get organized!
This time last year I decided to start REALLY using my planner — not just for recording lists and what I did for the day.  But to REALLY plan my life, my year, my days!
I turned my journey into a Year-Long-Planner Challenge and encouraged my readers to share it with me.  The accountability of going public pushed me (and you) to succeed!  If you're up for a challenge this year — to get your life in order and stop procrastinating on dreams, goals, and responsibilities — please join me again this year!

Resources To Help You Get Organized
I've tried lots of planners over the years and I finally narrowed them down to what actually works for me.  Read this post to find out the benefits of using a planner — and this post to see several different planner styles and how they might fit your needs and personality.
The key? — Find the planner style to work for your personality! 
The sky's the limit online — hundreds of creative ideas for organizing your dreams and goals. If you subscribe to my posts and newsletters, you'll get tips and tricks from experts in goal setting and planning, plus a lot of encouragement!
I did a ton of planner research a few years ago, and here's a few more favs:
The Big Happy Planner
A favorite with my daughters and me is the Big Happy Planner*. I especially prefer the long columns to plan out the day, along with sections for to-do lists, meal planning, etc. It has a monthly page for birthdays, goals, important dates, and a fun area to jot down activities you're currently spending time on. The feature that makes it stand out from the rest — it's disc binding which gives you the ability to move pages around or even add your own!
The Living Well Planner
I considered Ruth Soukup's Living Well Planner for a few years but hesitated due to the cost. Good news! She has a great sales a few times a year plus a new design that includes bonus planning sheets. I'm a sucker for a good deal — plus I love taking charge of my days. I like this planner so much, I'm willing to help promote it (thus my affiliate clause at the end of this post) because I know it will encourage busy women to get organized!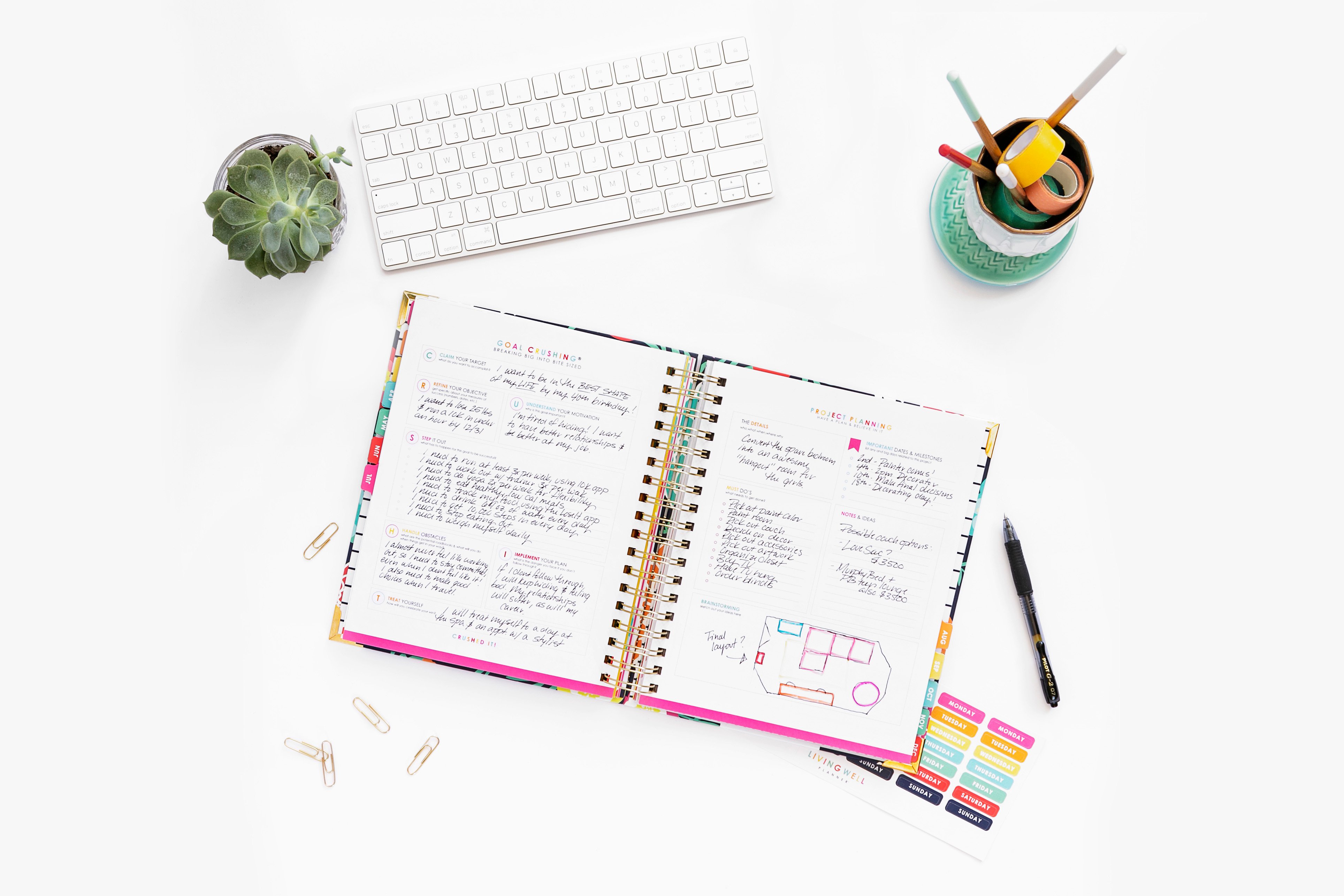 Another reason I love Ruth's planner* is the multitude of detailed videos and guides she offers to learn how to use a planner well.
You'll learn how to:
Brainstorm your responsibilities and to-do's
Choose Big Goals
Develop an Action Plan by breaking those big goals into bite-sized steps
Plan each week and day to get MORE accomplished with less time WASTED
You can find Ruth's planning posts here and detailed pics of each planner page here. I can't recommend these posts enough for motivating you to take action!
Are you ready to take back your days?
Get that to-do list checked off?
Start your planner challenge?
Accountability is KEY! Let's do this — together!
*** If you're serious, leave a comment, message me on Facebook, or jot me an email. ***
Start Here To Reach Your Goals
Planner Challenge To-Do List:
Let's learn and grow together!
Go to the ant, O sluggard;

consider her ways, and be wise.

Without having any chief,

officer, or ruler,

she prepares her

bread in summer

and gathers her food in harvest.

Proverbs 6:6-8
*This asteric indicates that I may earn some compensation for these items IF you purchase through my website. I only share products I love and use personally! Thanks!