For as long as I can remember, we've made our absolutely favorite Christmas breakfast.  I discovered it at a women's luncheon over thirty years ago and it's met the test with any guest at our feast!
We prepare it the night before, which makes Christmas morning a breeze.  Our original recipe is called Eggs Portugal, but I've heard it called by other names.
We compliment this casserole with Cranberry Puffs and fruit salad to create a delicious and quick breakfast.  It gives the feel of a feast fit for a king — and for celebrating the birth of our King!
Enjoy!  Wishing you a very Merry Christmas!
Egg Portugal   (Serves about 10)
12 slices of bread, cubed
1 ¼ c. grated cheddar cheese (reserve 1/4 c. to sprinkle over the top just before serving)
1 package sausage (we use turkey sausage for reduced fat)
1 medium onion, chopped
1 c. sliced or diced mushrooms, cooked or canned (optional)
____________
6 eggs
3 ¼ c. milk
1 ¼ T. yellow or brown mustard
1 ½ can cream of mushroom soup (we make ours from scratch to avoid additives)
1/3 c. sherry or cooking wine
Crumble sausage and cook until brown.
Put cubed bread in greased 9×13 casserole.
Top with cheese, sausage, onions, and mushrooms.
Blend eggs, milk, mustard, soup, and wine – pour over bread mixture in the casserole dish.
Refrigerate covered overnight (you can let it sit for a shorter time and it turns out fine 😉).
Bake uncovered 1 ½ hours at 300* or until it's firm in the center.
Sprinkle 1/4 c. cheese over the top about 10 minutes before serving.
_________________________________________________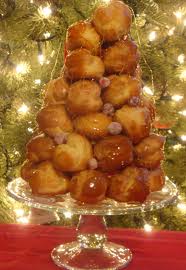 Cranberry Puffs   (makes approx. 24 – 1 1/2″ puffs)
Scrumptious, light, and easy to make!
1 c. hot water
½ c. dried cranberries
_________
1 c. hot water
½ c. butter
1 t. sugar
¼ t. salt
1 c. flour
4 eggs
_________
Glaze:
1 T. butter
5 t. milk
½ c. powdered sugar
1 T. lemon juice
½ t. vanilla
Pour 1 cup water over cranberries – let sit 5 minutes, drain and set aside.
In a saucepan, bring 1 cup water, butter, sugar, and salt to a boil.
Add flour and mix until a smooth ball forms.
Remove from heat and beat in eggs – mix well.
Stir in cranberries.
Drop by tablespoonfuls, 2 inches apart, onto greased baking sheet.
Bake at 375* for 30-35 minutes or until golden brown.
Mix glaze ingredients together and pour over puffs.
**These make a great addition to any breakfast or as a snack when made without the glaze.
Lastly, ENJOY! 🎄