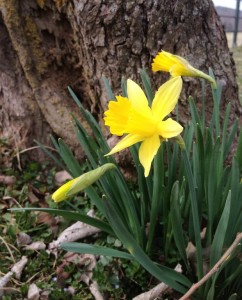 Narcissus pseudonarcissus – Daffodil –
As those who follow my blog know, I've been very 'quiet' lately.  I'll explain…..
After our family's move last year, our routine went south.  It amazes me how much a move can take out of us!  We lose our sense of calm, routine, order…..the list goes on.  We've moved many times since we were married, but this time all the work and exhaustion took it's toll.  We needed to rest.  Which meant less time for writing.  But the start of a new year boosted my motivation to get our family's routine back in place.  Well,  I'm on a roll and have more energy for my day.  Plus, the excitement of Spring in the air always helps!
Another stretching adventure for me is writing for Visionary Womanhood.  And I'm not just talking about my monthly posts.  Natalie, VW's founder, has chosen ten women to write a book, Three Decades of Fertility, on women having babies in their older years.  I think you'll be inspired when you read the stories of "those" women who have teens and babies, or who have grandbabies while their still teaching their own children!  I look forward to reading them all.
Well, it's hard for me to believe, but I'm one of those 'older' women and I'm actually enjoying this stage of life – yes, it's tiring, and challenging, too – but fun none-the-less!  So, look forward to hearing the real stories of real women, and be encouraged to stay the course, in spite of what the world or even your fellow church members or family think of you!  So, I have been typing away, yet it hasn't been for my blog, but a gathering of my last 31 years of pregnancies, parenting, and growth in the Lord along the way!  I'm working on my last bit of editing this week, and hope to be back on track with my blog writing soon.
Blog plans – I'll be sharing about our family traditions, relationships, marriage, with Truth grounding it all.  There's so much going through my head these days!  And so much that God is teaching me.  Oh, if we would just focus our attention on Him, and be like Cornelius in Acts 10 – "a devout man, and one who feared (reverenced) God with all his household….and prayed to God continually."
Blessings as you seek to become all that the Father wants you to be!
"Consider the lilies, how they grow: they neither toil nor spin; but I tell you, not even Solomon in all his glory clothed himself like one of these.  Luke 12:27